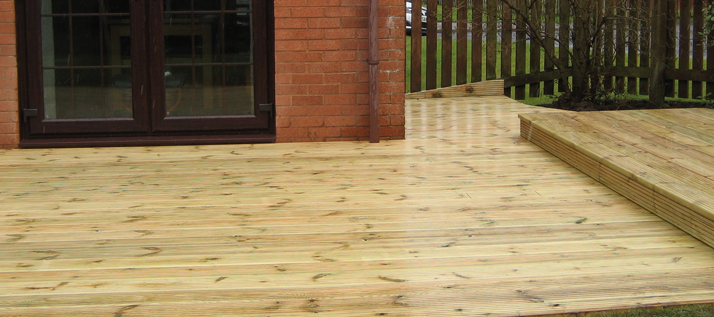 1st Fencing & Decking design are proud installers of a multitude of different designs of decking, whether to create the garden of your dreams or create an external  smoking area for employees, our trained fitters can create "Whatever your Heart desires."
Softwood Decking, Hardwood Decking, With or without Stairs or Balustrade/Handrail,  Raised on posts or laid flat on Slabs, Cut at an Angle or shaped as you wish. With our years of experience we can create a design to suit you!
All our Timbers are "Pressure Treated" and backed by a "Full Manufacturers Guarantee".
Our screws and nails are Galvanized to resit rusting and out raised Decks are installed using Blue Circle Post Mix in a depth of 600mm for "Maximum Strength, Safety & Security"
Raised with Balustrade and Stairway
Hardwood Decking and Furniture